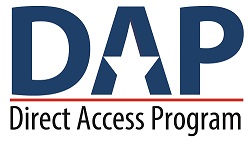 Offering unique opportunities for Veteran-Owned Small Businesses (VOSBs) to build partnerships, maximize networking, and gain access to Procurement Decision Makers (PDMs).
What is a DAP Event?
The Office of Small and Disadvantaged Business Utilization (OSDBU) plays a large role in ensuring programs, services, and support resources reach the Veteran small business community. The Direct Access Program (DAP) offers unique opportunities for Veteran-Owned Small Businesses (VOSBs) and Service-Disabled Veteran-Owned Small Businesses (SDVOSBs) to build partnerships and maximize networking through structured events.
Why Attend a DAP Event?
DAP events provide VOSBs and SDVOSBs with opportunities to:
Engage with representatives from Federal agencies and commercial firms to build business relationships;
Learn about industry-specific trends, developments and procurement opportunities to help support business growth; and
Network with other businesses to identify and discuss possible subcontracting and teaming opportunities.
The DAP team's involvement helps to reduce the level of effort on the part of the Procurement Decision Maker's (PDM) need to conduct interactive market research with VOSBs and SDVOSBs.
Our Success Stories
"HCSC event planner did an excellent job hosting and moderating the demonstrations. Her professionalism was outstanding." - Industry Procurement Decision Maker
"Jeannine Mtui and her team provided exceptional support. The way Jeannine handled the meetings were amazing. She is a great asset to the acquisition process for HCSC." - Industry Procurement Decision Maker
"Very effective and efficient use of resources. It was a pleasure working with the DAP team." - Industry Procurement Decision Maker
"Both the virtual session and the 1-on-1 meeting were well-organized. The GDIT team was well-prepared because of the DAP team's planning efforts." - Industry Procurement Decision Maker
"V1-on-1 event (including the technology) was fantastic. The GDIT team was very thoughtful with their questions, and I left very impressed." - Industry Procurement Decision Maker
"As a small business, it is sometimes hard to get in front of decision makers at large companies. Especially during the pandemic, opportunities are few and far between. Direct facilitated interaction is very helpful." - Industry Procurement Decision Maker
"Based upon the eight assessments that were received, GDIT plans to follow-up with seven of the eight companies (88%). Three of the eight (38%) companies were identified as being possible fits for other opportunities outside of GDIT's support of the VA." - Industry Procurement Decision Maker
"We have incorporated a couple of companies into our partner community. Engaged with them on several large pursuits. Very appreciative of the introductions from the OSDBU Direct Access Program." - Industry Procurement Decision Maker - May 2021
"In five years of doing these virtual events weekly, this is the best dry run we've experienced. We commend the organization and structure which has been outstanding. This event has been invaluable to us. Looking forward to our partnership and next session." - Industry Procurement Decision Maker - April 2021
"(We) would not been able to see the pool of companies, volume of interest and socio-economic categories without DAP." - Industry Procurement Decision Maker
"Scheduling, reminders and the entire process exceeded all expectations. Very professionally created, ran and executed. I was very impressed and would look to do this at any other given opportunity to do so." - Small Business Participant
"Good overview/introduction to the small businesses. The one-on-one sessions allowed further investigation of capabilities to permit assessment of potential partnering opportunities. The spreadsheets provided are a great tool for the future when we have a need for small business partners." - Federal Procurement Decision Maker
Event Models
Ways We Execute
Virtual Production
In-Person Business Engagement Center (BEC)
Event Services
Plan and organize virtual and in-person events
Facilitate targeted marketing and outreach communications
Develop event promotional materials
Execute tailored event experiences
Analyze and evaluate event assessments and outcomes
Provide after-action reporting as a benchmark to gauge future event successes
Please note: Content on this Web page is for informational purposes only. It is not intended to provide legal advice or to be a comprehensive statement or analysis of application statures, regulations, and case law governing this topic. Rather, it's a plain language summary. If you are seeking claims assistance, your local VA regional office, a VA-recognized Veterans Service Organization, or a VA-accredited attorney or agent can help.